The setting is a sleek San Francisco deadened by tech wealth. The characters, willingly or not, are all entangled in oppressive projects of gentrification, mass surveillance, and the continual empowerment of a small elite. To cope they take solace in food, drugs, shopping, and repetitive entertainment. But then, a suspicious death sets off a chain reaction with international implications and our heroine must leave her previous life behind and plunge into a dangerous new reality from which she may never emerge.
This setup may sound familiar, rote even, but what comes after is anything but.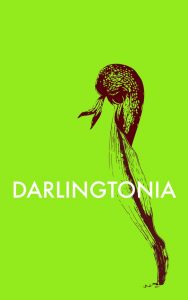 Like hiding a magical hallucinogen by rolling it into a regular looking cigarette, the Alba Roja collective has passed us something radical by concealing it within a familiar form. Darlingtonia presents a hopeful story of awakening within our current dystopic reality. It asserts the possibility that our sexuality and our hunger, our creativity and our restlessness can turn in an instant, into revolutionary weapons.
Illicit and thrilling, this is a consciousness expanding, euphoria inducing novel. I loved it.
—Joni Murphy, author of Double Teenage